1988 dt 50 side covers

Topic Author

1988 dt 50 side covers #1

Looking for 1988 d t 50 white side covers ??? any ideas ,,, just pick this 1988 up ,,,, has 647 origanal miles ,,, also tryied starting runs on choke ,,, but that is itt ,,,,, THanks so much Massimo

This email address is being protected from spambots. You need JavaScript enabled to view it.

is my email ,,,Thanks again Mas

Please Log in or Create an account to join the conversation.

1988 dt 50 side covers #2
Sounds like the carb needs cleaning.
I have a pair of brand new in the Yamaha package side covers in black that I came across a few years ago and thought I might need someday... but then that project bike got completely redesigned... so they're just spares for my other DT50's now... They can be painted. They fit the US DT50's... water cooled with a "17W" prefix on the engine number. (Not sure what country you're from and some other countries have very different DT50 models).
You can keep your eyes open on ebay and might find some used ones there... they are kind of hard to find and usually expensive when you do. I'd sell the ones I have if you want them but they weren't cheap... I'd have to look but I think it was around $120 for the pair.
Here's a used set in white on ebay: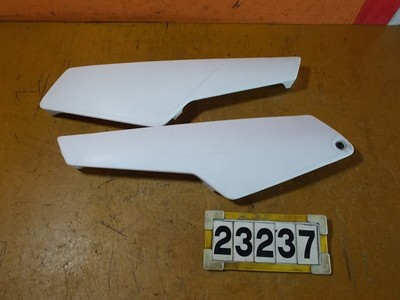 23237 Yamaha 17W Dt50Lc 6V '93 Genuine Side Cover Left And Right Set
Buy It Now
Saw a blue one for $75 too... just one side... not both. They are kind of rare. But if you're patient you might find a set for a good price.
P.S. Post up some pictures when you can! Would love to see your DT50!
1963 YG1-T, 1965 MG1-T, Allstate 250, 1970 CT1b, 1971 R5, 1973 AT3MX, 1974 TS400L, 1975 RD350, 1976 DT175C, 1976 Husqvarna 250CR, 1981 DT175G, 1988 DT50, 1990 "Super" DT50, 1991 RT180, 2017 XT250
Please Log in or Create an account to join the conversation.